The 2020 Tokyo Olympics was India's best performance, with seven medals in various sports events. From boxing to badminton, wrestling to weight lifting, a medal in hockey after long 40 years, and even our first in athletics. This is the success story of Olympics gold medallist Neeraj Chopra. Who created history in the 2020 Tokyo Olympics with a great throw of 87.58m and won India's first gold medal in Javelin Throw.
This is Neeraj's transformational yet motivational journey from being a fat boy to being the 1st Indian to bring gold in athletics.
Neeraj Chopra's Inspirational Story

On December 24, 1997, Neeraj was born in a small village named Khandar in Panipat, Haryana. Neeraj's father, Sh. Satish Kumar is a farmer, and his mother, Smt. Saroj Devi is a housewife. He grew up with two sisters. During his childhood, Neeraj was teased for being an overweight kid and was called Sarpanch by the village children because of his overweight. Neeraj's interest in javelin started at the very young age of 13. When his family noticed that his weight was getting uncontrollable, they forcefully sent him to the field to do running and exercise to reduce his weight.
The same overweight kid later created history by winning a gold medal in an individual event after Abhinav Bindra.
Neeraj started going to Shivaji Stadium in Panipat and he saw some senior boys throwing the javelin in the stadium. Suddenly his interest grows in this sport, and the rest is history. Neeraj's interest in javelin increased day by day, and he joined the Panipat Sports Authority of India Center.
Under the coaching of Jaiveer Choudhary, he learned the basics of the sport and soon started participating in the local Javelin throw events. After training under Jaiveer Choudhary for a year, the 13-year-old Neeraj Chopra joined the Tau Devi Lal Sports Complex in Panchkula. Soon he started showing good results, and in October 2012, Neeraj won the gold medal in the National Junior Athletics Championships in Lucknow.
Early Career and Achievements
Neeraj's international career started when he participated in World Youth Championships in Ukraine. He won his first international medal in 2014, a silver medal in Youth Olympics Qualification in Bangkok. In 2015 Neeraj broke the previous world record in the junior category by throwing 81.04 meters in 2015 All India Inter-University Athletics meet. In 2016 to get better training, Neeraj joined Netaji Subhas National Institute of Sports, Patiala. According to Neeraj Chopra, this was the turning point in his career as he got the best facilities, quality diet, and improved standard of training.
Neeraj Chopra won a gold medal in the 2016 IAAF World U20 Championships in Poland. He set a world junior record of 86.48 meters and became the first Indian athlete to achieve a world record. In 2017 at Asian Athletics Championships, Neeraj won gold with a throw of 85.23 meters. In August 2018, in his Asian Games debut, Neeraj threw a distance of 88.06 meters to win India's first-ever gold medal in the Javelin throw event.
For his outstanding performance in Javelin sports in 2018, Neeraj was awarded Arjuna Award. He was also rewarded by the army with an out-of-turn promotion to subedar in November 2018. In preparation for the 2020 Tokyo Olympics, which were postponed to 2021, Neeraj Chopra started training under his German coach Uwe Hohn, who focused on improving Neeraj's throwing technique.
Injury and Low Phase in Career
He underwent arthroscopic surgery on the elbow of his right throwing arm in 2019. It was a surgery that could have affected his confidence. Because of this surgery, he was away from all forms of competition for nearly eight months. When asked how he managed to boost his confidence level again and grabbed a gold medal in Tokyo 2020 Olympics despite being away from sports, Neeraj states that, after surgery, he immediately started cycling because he could not move his hand.
After some time, he started strengthening and doing hand exercises. After doing this for a few weeks, he slowly started gaining strength. To keep him motivated, he set a target for himself to do better than the previous day. Due to injury, he could not participate in any tournaments but to keep his morale up, he keep focused on training.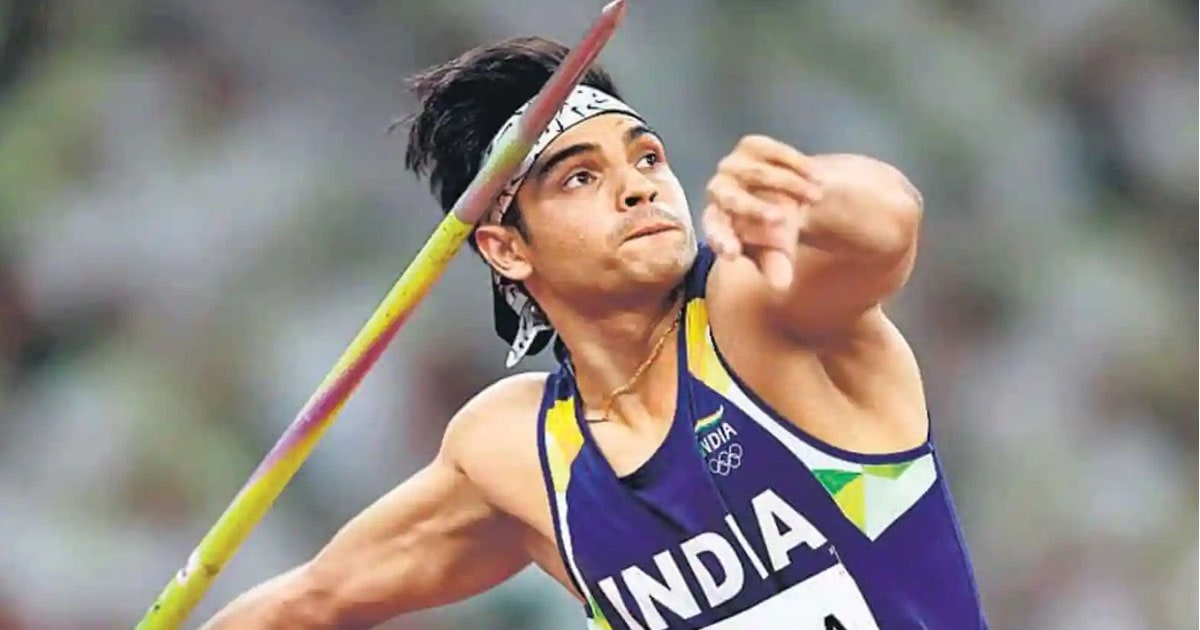 2020 Tokyo Olympics
On August 4, 2021, Neeraj Chopra represented India while making his Olympics debut in the Japan National Stadium. Neeraj topped his qualifying group with a throw of 86.65 meters and qualified for the final. On August 7, 2021, Neeraj Chopra created history with a throw of 87.58 meters on his second attempt and won the Olympics Gold Medal in the Javelin throw event. After his historical performance in Tokyo Olympics, Neeraj Chopra becomes the second-ranked athlete internationally in the men's javelin throw.
Neeraj Chopra in 2022
On June 14, 2022, Neeraj Chopra marked his return with a new national record of 89.30 meters at the Paavo Nurmi Games in Turku, Finland. Just after 15 days on 30th June 2022, Neeraj broke his national record when he accomplished 89.94 meters at Stockholm Diamond League 2022 in Sweden.
Neeraj Chopra, on July 23, 2022, won a Silver medal in the 2022 World Athletics Championships with a throw of 88.13 meters. This made him the second Indian athlete to win an award at World Athletics Championships after Anju Bobby George.  who won a Bronze medal in the Women's Long Jump at the 2003 World Athletics Championships.
Due to a groin injury, Neeraj did not attend the 2022 Commonwealth Games, where he was the reigning champion. As of September 2022, Neeraj Chopra is one of only two Indian sportspeople to have won an individual Olympic gold medal, and another is Abhinav Bindra. Neeraj is also the youngest-ever Indian who won an Olympic Gold Medal in an individual event on his Olympic debut.
Life Lesson from Neeraj Chopra's Life
Confidence and hard work have defined Neeraj Chopra's life. Despite suffering a setback, he remained undaunted and achieved his goals. Neeraj Chopra is a true fighter who keeps his spirits up despite all his obstacles. His victories and determination kept him going. He proved himself to the world and made India proud. His achievements have motivated him and others never to settle and strive for the best.
Difficulties and setbacks are part of life that test our strength and willpower in challenging situations. All we need is never to lose hope and stay focused on our goals.
Read: Peyush Bansal: Amazing Success Story of Lenskart Co-Founder